MakeWeekend @ USM 2012
Had a fabulous weekend at MakeWeekend with the awesome Tandemic crew ♥
Here are some of the pictures taken, gathered from various sources. But I hope you'll enjoy viewing it ^^


Kal started off telling us what MakeWeekend is all about by showing us slides and interesting videos.
The Wall of Problems filled with problems ranging from BED to Lynas written on sticky notes :)
Then we had our brainstorming and group forming session that pretty much wrapped up our first day.
Our Saturday and Sunday were filled with discussions, prototyping, decision makings, marketing/business planning and pitching (the part where you'll usually screw up) but we learn along the way :)
And this was one of the things we all learned! After more than 24 hours of hard work and teamwork, we got ourselves G2H prototype :)
It's made out of used materials like plastic bottles, straws and a tube I got from the pharmacy (think it's some kind of tube used in the medical line, for mucus cleaning perhaps? haha)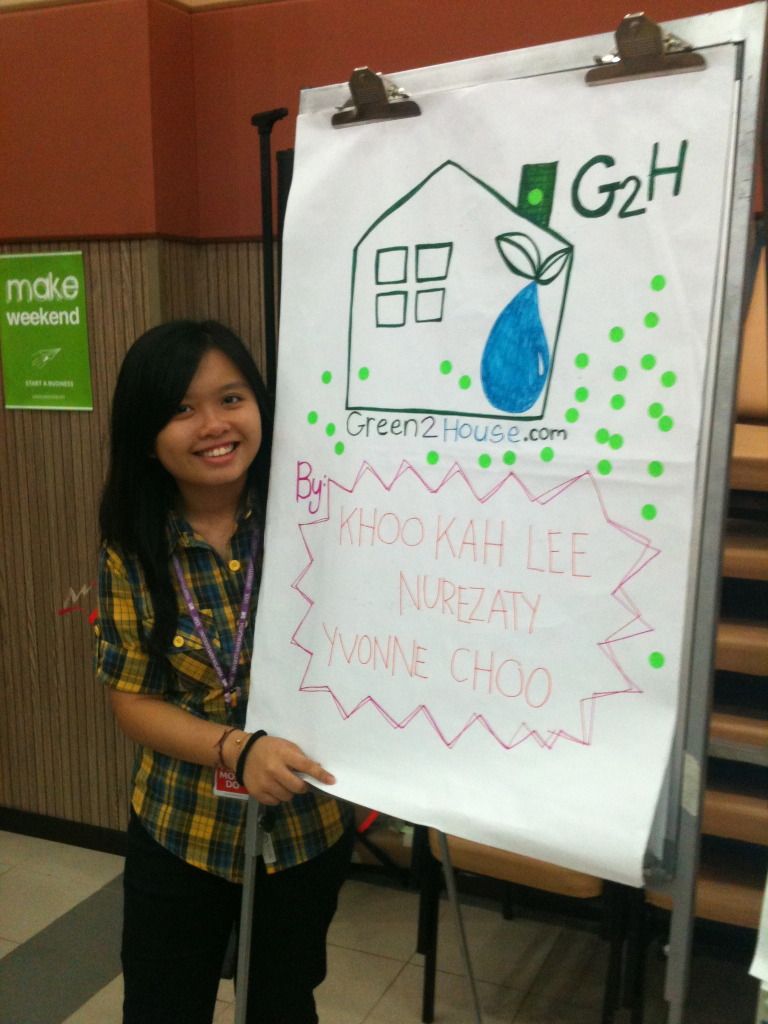 And this is our board with our team members' name written on it.
I was thankful to become the founder of G2H but it was after all, a product of our team work! Something I'm proud to be involve it ♥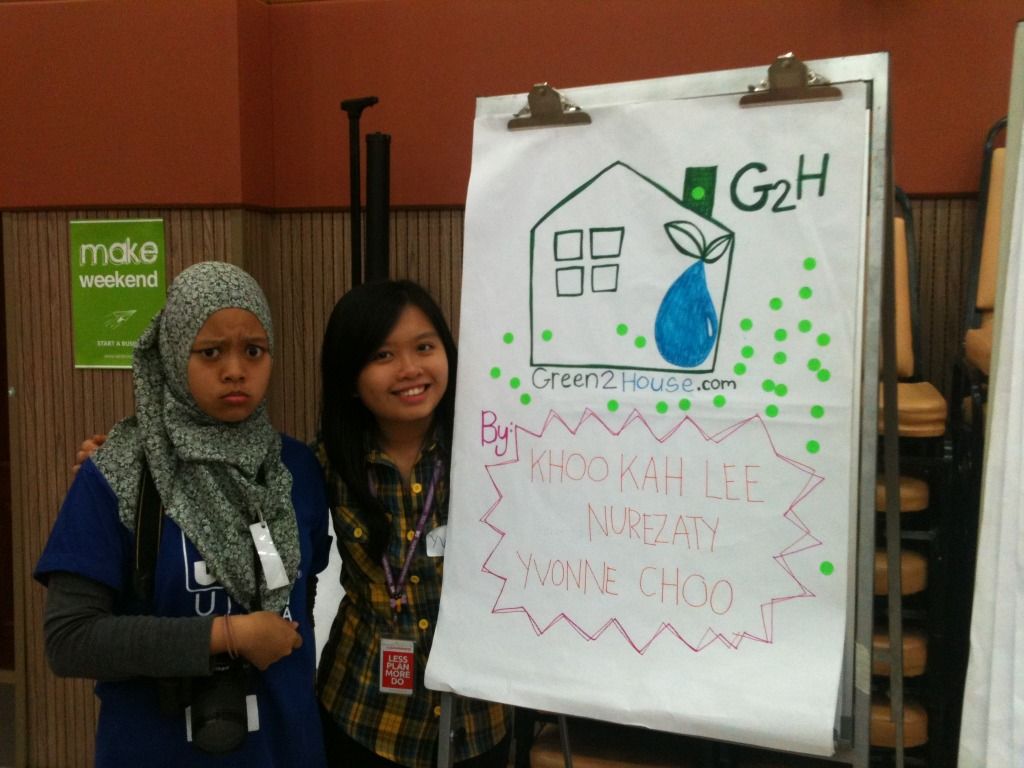 With Nurezaty from UITM (SIFE):)
And the person not included in the picture, our cameraman, Khoo Kah Lee is a very knowledgeable person and we're so glad to be able to learn from him!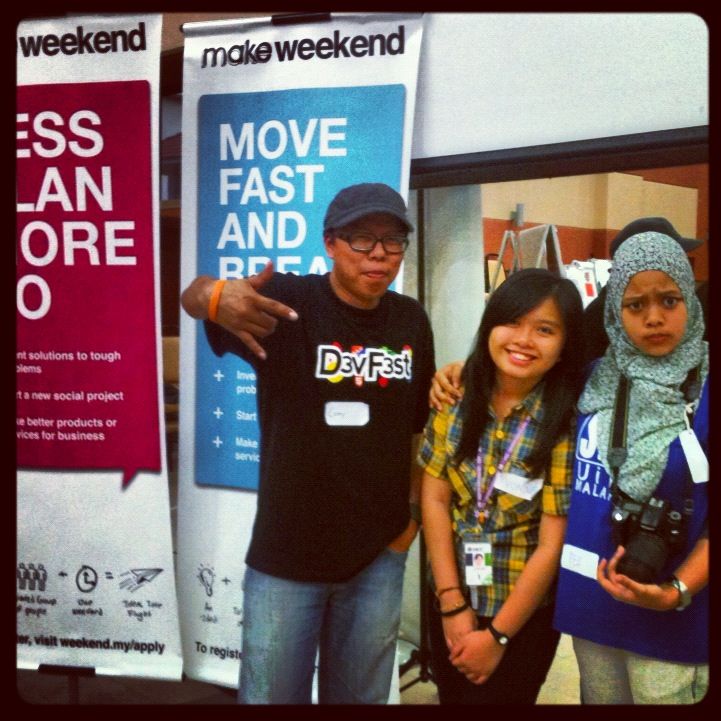 Our Team Rocks!! (From the left: Khoo Kah Lee, Yvonne Choo and Nurezaty)
Prize Giving Ceremony was apparently the peak of the event and our team managed to be awarded the following:
Penang State Best Prototype Award 2012
Though it wasn't the grand prize, this was something I never expected could happen to that very first idea I pitched on a Saturday afternoon. And with this, it showed that our hydroponic dream could go on, and we could educate more and more people making them aware of the concept: Hydroponic, Go GREEN!
A picture with the winning innovation, running sphere! It's an alarm clock that will run around your room to wake you up every morning. It's a very cool idea by USM's Material Engineering students :) Congratulation!
Our Group Photo ♥
Last but not least, the awesome people behind MakeWeekend that made this Weekend possible!! Thank you all for that!!! Trully appreciate it!!!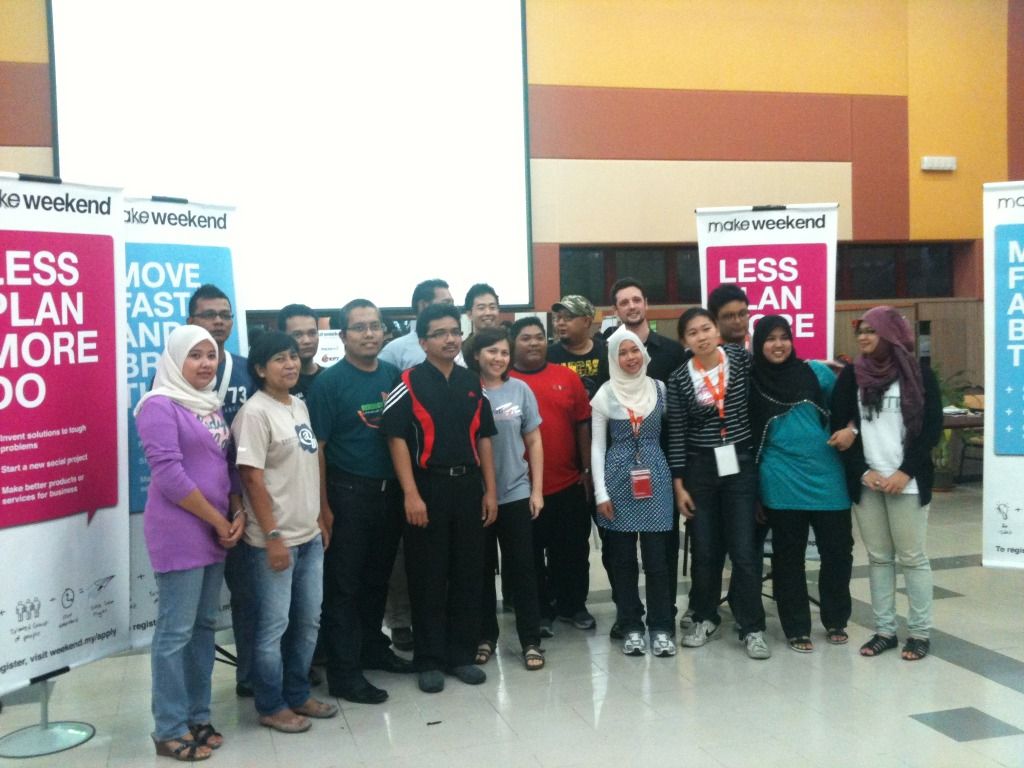 I've learned a lot throughout the weekend and I really did enjoy myself too the MAX not to mention the chance to rapid prototype the idea of small scale automated hydroponic system, G2H.
But to those who don't know, G2H will move on to the next level, so do LIKE our page on Facebook to follow our progress!! If you happen to have any other brilliant ideas or have any comments on the project, kindly leave us a note at this email.
MakeWeekend, You are the BEST~! ♥